Upcoming Events
Your Blue Store Is Now Offering Virtual Fitness Classes
Protecting the health of our members, employees, and community remains our top priority at BCBSRI. With this in mind, we have closed all Your Blue Store locations and cancelled all member meetings. To help you stay healthy at home, we are now offering virtual fitness classes live on the BCBSRI Facebook page. Our longtime instructor Suann Polverari will be leading the classes. Please see below for the class schedule and her bio.
If you have any questions or need help, please call Your Blue Store at (401) 459-5196. For more information on BCBSRI's response to coronavirus disease (COVID-19), please see our FAQs.
Virtual fitness class schedule
Please join us live on the BCBSRI Facebook page for these classes, Monday through Friday at 10:00 a.m.—no registration needed. If you can't make the live class, we invite you to view the video anytime on our Facebook page.
Monday

Balance & strength

Enjoy a little bit of everything in this hybrid class, from ballet poses to Pilates to lower body toning. Have a chair nearby to warm up and hold poses.
Tuesday

Core

Improve your strength and stability by challenging your core muscles. You can use props and light weights, and modifications will be suggested for beginners.
Wednesday

Strength & tone

Sculpt your muscles with light dumbbells, a weighted ball, and your own body weight. Don't have weights? Use canned goods and a milk jug!
Thursday

Stretch & relax

Take time for yourself with this stress-reducing class. Breathe deep and focus on exercises that promote strength and flexibility.
Friday

Cardio dance

Feel good and get your heart rate up! This class varies between higher and lower intensity, but you can take it all at your own speed.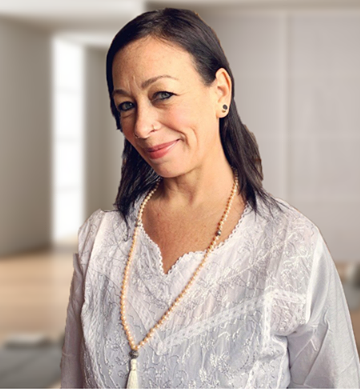 Suann Polverari, ERYT 500, YT, HCC
A longtime instructor at Your Blue Store, Suann teaches yoga, meditation, mat Pilates, barre, dance fitness, belly dance, strength, and stretch classes. She graduated from OM yoga center in New York City and holds a certificate of accreditation as a Health Care Counselor from the Teachers College of Columbia University and the American Association of Drug-less Practitioners. Suann lives in North Providence, RI.
By performing any of the exercises in this program, you assume all risks of injury from doing so. Blue Cross & Blue Shield of Rhode Island is not responsible or liable for any injury or loss you may sustain by participating in this exercise program.
Be sure to warm up before beginning any workout and do not exercise beyond the level at which you feel comfortable.
Stop exercising immediately if you experience pain, soreness, fatigue, shortness of breath, dizziness, lightheadedness, blurred vision, headache, nausea, sickness, illness, dehydration, excessive sweating, or any other discomfort. If any of these symptoms persists after you stop exercising, please seek medical help immediately.
This exercise program is not intended, and should not be used, as a substitute for professional medical advice, diagnosis or treatment.
Sorry, none of our events matched your search.