Helping members stay home: new ideas to reduce readmissions
When it comes to rising healthcare costs, hospital readmissions are among the biggest culprits. In 2018, 3.8 million adults were readmitted within 30 days of initial discharge, according to the Agency for Healthcare Research and Quality (AHRQ). For privately insured patients, the AHRQ noted, the average cost per readmission was around $16,000. There's an emotional cost as well. While any hospital stay can be challenging, an unexpected readmission—especially one that might have been avoided—can be particularly unsettling for both the patient and their family.
Wherever possible, we need to reduce hospital readmissions—but not at the expense of care quality or patient outcomes. At Blue Cross & Blue Shield of Rhode Island (BCBSRI), we developed the Medical Expense Trend Summit (MET Summit) in conjunction with healthcare providers to find solutions to challenges like these. At our second annual event this past summer, Coastal Medical, Integra, and Performance Physical Therapy were among the providers who shared their ideas to improve patient health following discharge. Today, two of their proposed programs are already up and running and working to meet the needs of BCBSRI members.
"Reducing Readmissions by Transforming Patient Access" – Coastal Medical
An in-depth patient data analysis revealed that half of Coastal Medical's patient readmissions occurred just prior to their initial post-discharge outreach or immediately following the expiration of post-discharge case management services. What's more, the primary cause of readmissions wasn't the condition or its complexity; rather, it was some form of unmet need, such as difficulty following a medication or dietary plan, transportation or mobility challenges, or behavioral health issues.
In response, Coastal Medical developed a remote monitoring program that helps patients stay connected to their care teams following discharge. Now, healthcare providers can more easily connect with patients when needed, and care managers can be alerted and respond to a situation before it requires the patient to be transported to the emergency department (ED) and/or be readmitted.
"Integra at Home Community Paramedicine" – Integra
This program seeks to reduce unplanned hospitalizations and ED visits by providing on-demand, at-home care for patients at high risk, 24/7. Within 30 minutes of calling, a patient will be triaged and a care provider (a nurse practitioner, physician assistant, or community paramedic) will be dispatched to provide health services, such as an EKG, bloodwork, home safety evaluation, or medication check, which can help to prevent an escalation of the health event. An initial pilot of this program has already produced impressive results:
27% reduction in ED visits
20% reduction in inpatient admissions
15% reduction in hospital readmissions
Up-and-coming care initiatives
BCBSRI is actively working with other MET Summit participants to pilot their care initiatives, many of which are aimed at supporting members with co-morbidities like diabetes. Among the ideas are virtual physical therapy and a medically tailored meal delivery program.
By addressing the root causes of unplanned hospital readmissions and ED visits, BCBSRI provider partners are helping to reduce healthcare costs while still ensuring quality care and supporting positive health outcomes—and that's good news for our members and clients alike.
To learn more about the MET Summit proposals or to explore ways BCBSRI can help your business manage healthcare costs, please contact your BCBSRI account executive.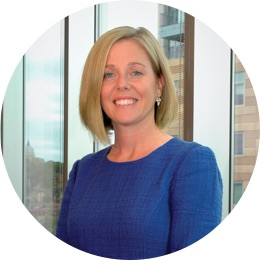 Tara DeMoura
Senior Vice President, Employer Segment