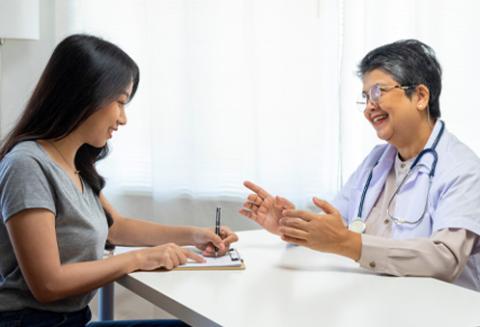 Improving health equity takes all of us
An equitable healthcare system is one in which everyone has the opportunity to be as healthy as possible. Social determinants of health such as housing, economic well-being, and access to care can impede a person's ability to become and remain healthy. Systemic challenges like structural racism and discrimination, lack of cultural understanding, and provider representation can dissuade oppressed and marginalized individuals from seeking the care they need—and deserve. We need to work together to ensure that zip code, cultural background, or skin color are never defining factors in a person's current or future health status. 
Health disparities by the numbers
Here are a few of the health challenges your own employees could be facing:
Only 1 in 3 Black adults who need mental healthcare receive it.1
Black mothers have 3X higher maternal mortality and 2X higher morbidity (chronic condition or disease) than white mothers.2
Black adults are 60% more likely to be diagnosed with diabetes than non-Hispanic white adults.3
Individuals with lower socioeconomic status have 14% higher cancer death rates than people with a higher status—and the gap is growing, especially among the most preventable cancers.4
Health disparities can cause or exacerbate other health issues. Untreated diabetes, for example, can lead to life-threatening complications like heart disease or stroke. Plus, beyond the obvious human toll, there is an economic price to pay. Studies now estimate that $93 billion in excess medical care costs can be attributed to health disparities—and employers are shouldering a significant portion of this burden.5
Taking steps to improve health equity
In behavioral health, BCBSRI is:
Investing in community behavioral health organizations to increase access to care 
Promoting integration of behavioral healthcare into primary care to support earlier identification and treatment of issues 
Offering options like telehealth to support members with challenging schedules or transportation barriers
BCBSRI and other Blue Cross and Blue Shield companies are working to reduce racial disparities in maternal health by 50% in five years. To help support this goal, BCBSRI has introduced:
The Maternal Care Management Program - Designed to help reduce the risk of preterm births, low birth weights, and pregnancy-related complications through access to education, clinical care support, and related services. 
Access to doulas - Trained professionals who can offer physical, emotional, and informational support during pregnancy and childbirth. For members with fully insured plans, coverage for doula services includes six total pre- and postnatal visits as well as labor and delivery support.
BCBSRI also partners with Brown University School of Public Health on the RI Life Index. This annual statewide assessment offers valuable insights that can guide efforts around social determinants of health and well-being.
Here are some ideas to help your organization
Consider bringing clinicians on-site for screenings/vaccinations or providing a private space with Internet service for telehealth visits to help increase access to care.
Promote available behavioral health resources and, if possible, share your own stories to encourage employees to seek help when they need it.
Ask employees about their experiences and recommendations.

Are there specific health programs they'd like to see? 
Are your current offerings culturally appropriate and available in relevant languages?
Could you create or work with an existing employee group to address health and well-being issues?

Make diversity, equity, and inclusion initiatives a priority. Your leadership team sets the tone—start there.
Together, we can build a more equitable system for all Rhode Islanders. Contact your BCBSRI account executive to learn more.
Tara DeMoura
Senior Vice President, Employer Segment
1"Identity and Cultural Dimensions: Black/African American," Your Journey, National Alliance on Mental Illness (NAMI).
2Gianna Melillo, "Racial Disparities Persist in Maternal Morbidity, Mortality and Infant Health," AJMC, June 13, 2020
3U.S. Dept. of Health & Human Services, National Diabetes Statistics Report: 2020 Estimates of Diabetes and Its Burden in the United States, CDC, 2020
4New CDC Report Shows Deaths from Cancer Higher in Rural Areas," Centers for Disease Control and Prevention, July 6, 2017.
5 Ani Turner, The Business Case For Racial Equity: A Strategy For Growth, Altarum/W. K. Kellogg Foundation, July 24, 2018.