Innovation spurs more ways to reduce medical spend
It took just one innovative idea to spur many new ways to reduce medical spend and improve members' health.
In 2018, Blue Cross & Blue Shield of Rhode Island (BCBSRI) decided to ask providers themselves for ideas and launched the Medical Expense Trend (MET) Summit. Together, we explored new opportunities to improve the efficiency and efficacy of care across the Rhode Island healthcare system. Through similar internal events, BCBSRI teams have contributed their ideas for bending the trend. These collective efforts have resulted in programs that today are helping to manage costs, improve healthcare delivery and, most importantly, keep your employees healthier and out of the hospital—a true testament to the power of partnership.
Supporting earlier interventions for behavioral health
BCBSRI is using high-tech tools like predictive modeling to identify at-risk individuals sooner and connect them with critical behavioral health services. This proactive and data-driven approach helps your employees get the care they need when and where they need it most. It can help to reduce inpatient stays, support better health outcomes, and reduce the overall cost of care.
BCBSRI is also collaborating with primary care practices to help address underlying behavioral health needs for individuals with chronic conditions. Diagnosing and treating a patient's depression or anxiety along with their diabetes, for example, can improve their quality of life and help them manage their condition with greater confidence. It might even help prevent avoidable trips to the hospital.
Identifying opportunities for alternate care
Other programs are using diagnostic tools with risk prediction capabilities to support individuals with chronic back problems or congestive heart failure (CHF). One model can identify patients with a history of back pain and a likely need for future surgery. Armed with this data, the provider can then recommend an interim approach, like physical therapy, to offer more immediate relief and help their patient avoid the discomfort, recovery time, and expenses associated with back surgery. Similarly, a patient with CHF (and a high likelihood to make repeated trips to the hospital) might be identified and offered a comprehensive action plan to help them manage their health more effectively—and possibly avoid unsettling and expensive hospital stays.
Improving maternal care and outcomes
Not all innovations are high tech. The BCBSRI Maternal Care Program takes more of a high touch approach to help reduce the risk of preterm births, low birth weights, and pregnancy-related complications by supporting expectant mothers throughout pregnancy and up to six months postpartum. Through a combination of educational resources and clinical support, the program helps participants obtain appropriate prenatal care and recommended screenings, connect with a doula if they wish, and prepare for the delivery and care of their infant.
We are grateful for the support and partnership of our MET Summit participants and applaud their ongoing commitment to the health and well-being of Rhode Islanders. To learn more about these programs, contact your benefits consultant or BCBSRI account executive.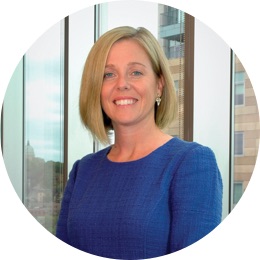 Tara DeMoura
Senior Vice President, Employer Segment