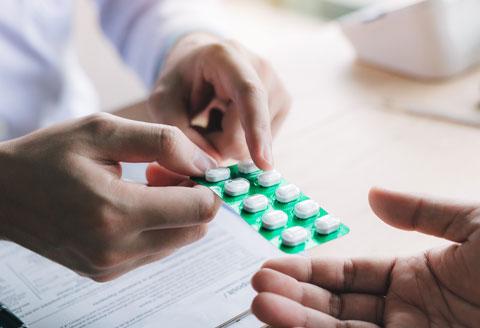 Quality, simplicity, and savings: the benefits of BCBSRI pharmacy coverage
Imagine you have an employee with diabetes who reports alarming symptoms to their doctor. Given the situation, the employee is admitted to the hospital, treated, and recovers. Soon after, they confess to their provider that they'd been skipping doses of their diabetes medication due to its cost.
It's not an implausible scenario, but it is largely avoidable—with pharmacy coverage through Blue Cross & Blue Shield of Rhode Island (BCBSRI).
A complete view for more comprehensive care
At BCBSRI, our integrated pharmacy and clinical teams have a more complete view of patient health. Medical and pharmacy data is accessible—and actionable—in real-time. That means:
Medication adherence can be monitored more closely
At-risk members can be identified more readily and targeted for outreach 
Members with chronic conditions can be quickly referred to care management for support
Gaps in care can be closed more effectively
High-cost, low-value treatments can be more easily avoided 
It's a smart, strategic approach to managing costs and helping your employees stay healthier. A peer-reviewed study showed that integrated pharmacy benefits can offer:
An average savings of $148 per member per year on medical costs
15% lower odds of a hospitalization 
7% lower odds of an emergency room visit
A $312,000 savings opportunity
Here's a real-world example. To treat a rare condition, a BCBSRI member was prescribed four 5-mg tablets per day of a specialty drug with limited use. Total cost for a 30-day supply was $64,000. During a pharmacy claim review, BCBSRI saw an opportunity to optimize the dosage. The prescribing provider agreed and the dose was adjusted to two 10-mg tablets per day—lowering the monthly cost by $26,000.
This simple solution yielded $312,000 in annual savings—with an equivalent treatment agreed to by the provider—because of pharmacy integration.
The right drug in the right setting at the right time
Our pharmacy program helps employers manage the high costs of specialty medications as well. Used to treat complex conditions like rheumatoid arthritis and cancer, specialty drugs account for nearly 50% of total pharmacy spend (even though they comprise only 1% to 2% of all prescriptions).1,2
BCBSRI can manage pharmacy across the medical and pharmacy benefit, so the right drug is delivered in the right setting at the right time. That can mean greater cost control and more favorable outcomes. Utilization management strategies—including medical reviews, step therapy, and quantity limits—also help to ensure BCBSRI members are using the most clinically appropriate and cost-effective medications. Plus, with its emphasis on drug management best practices, integration can play an important role in helping to address the ongoing challenge of the opioid epidemic.
An improved member and employer experience
The BCBSRI pharmacy experience is easier for employees. There's one ID card, one customer service team, and one holistic clinical experience. Administration is streamlined for employers, thanks to:
One integrated plan: networks, policies, and benefit design 
One reporting system
One account management team
One clinical management team
Contact your benefits consultant or BCBSRI account executive to learn how an integrated strategy could help for your business. 
Tara DeMoura
Senior Vice President, Employer Segment