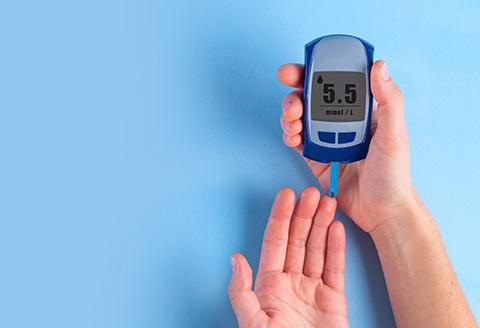 What every employer needs to know about diabetes
November is Diabetes Awareness Month, but how big is this problem really?
Nationwide, more than 37 million people have diabetes.1 Here in Rhode Island:
92,000+ people have diabetes
23,000 have it but don't realize it
280,000 have prediabetes, which puts them at risk of developing type 2 diabetes2
Diabetes is among the most prevalent—and expensive—chronic conditions in the country. When not managed properly, it can lead to heart disease, stroke, amputation, blindness, and end-stage kidney disease. Diabetes-related costs in Rhode Island are estimated at $1.1 billion per year—and many employers are paying a substantial portion of the bill.
$778 million in direct medical expenses, including inpatient care, medication, supplies, and doctor visits
Another $283 million attributed to indirect costs from lost productivity3
Blue Cross & Blue Shield of Rhode Island (BCBSRI) offers specialized programming and preventive care services that can help support better health outcomes for your employees and greater cost savings for your business.
Improving outcomes through condition management
The BCBSRI diabetes care management program teaches members with diagnosed diabetes how to manage their condition with greater confidence.
BCBSRI's clinical care team works with members to help them understand their condition, take medications properly, communicate with doctors effectively, and access outside support and resources if needed.
The program includes educational materials, digital communications, and personal outreach.
If a participant has behavioral health needs, the care team can help them find a suitable provider or program.
The Livongo diabetes management program uses a whole-person approach to care—from encouraging members to monitor blood glucose levels faithfully to helping them address any anxiety or depression they may be experiencing. Currently available for self-insured employers, Livongo will be added to fully insured plans later in 2023.
An ounce of prevention: reducing risk factors for type 2 diabetes
For individuals dealing with prediabetes, positive lifestyle changes—like maintaining a healthy weight and exercising regularly—can help keep their blood glucose numbers in a healthy range.4 The BCBSRI wellness program can help.
Users can set personal health goals, monitor their progress, and earn rewards for their achievements, depending on their program design.
Nutrition, exercise, sleep, and stress management are covered, as well as specialized content on diabetes management, blood pressure, and heart health.
The game-like design of the Virgin Pulse platform encourages continued engagement and more positive long-term habits.
Employers benefit as well. Through the associated Rewards for Wellness program, fully insured employers can earn up to 8% back on their annual medical premium or a dollar-for-dollar match on their employees' wellness earnings, based on company size and program design.
Preventive healthcare is equally important. All BCBSRI health plans include $0 in-network annual well visits. This yearly appointment provides an opportunity to assess patient risk factors and develop appropriate action plans. Plus, if the primary care provider (PCP) is part of a patient-centered medical home (PCMH) or other alternative care model, they can work with their health team members and the patient to close any gaps in care and monitor health progress.
Dental and vision care matter. Recommended dental cleanings and regular eye exams can help identify warning signs and help prevent potential disease-related complications.
Nearly one in five people with severe gum disease may have had type 2 diabetes but didn't realize it.5
High blood sugar levels can exacerbate tooth and gum problems and cause tooth loss.6
Serious eye diseases (retinopathy, cataracts, and glaucoma) are more common among people with diabetes and can lead to blindness if left untreated.7
The diabetes problem in the United States is significant, but there are solutions that can help your employees enjoy a better quality of life and help your business manage the financial challenges of chronic health conditions. Contact your BCBSRI account executive or benefits consultant to learn more.
Tara DeMoura
Senior Vice President, Employer Segment
Livongo is an independent company that has contracted directly with Blue Cross & Blue Shield of Rhode Island (BCBSRI) to provide diabetes management, weight management and other health benefit programs for eligible BCBSRI members.
Virgin Pulse® is an independent wellness company, contracted by Blue Cross & Blue Shield of Rhode Island (BCBSRI) to provide wellness services.
1American Diabetes Association
2,3American Diabetes Association
5American Diabetes Association