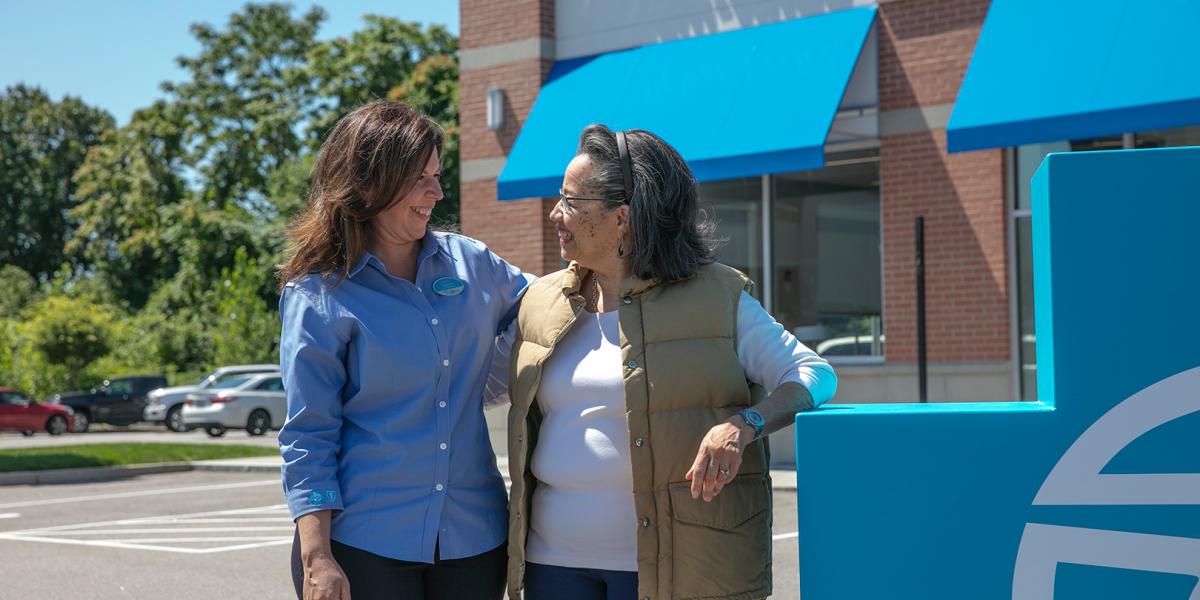 Nov 21, 2019
Melanie Teixeira: A familiar voice for our Portuguese customers
Paul Ryan, director of retail strategy & operations at Blue Cross & Blue Shield of Rhode Island
"Oh, I know you from somewhere!" "Your voice is so familiar!" As a radio host for New England's popular Portuguese station WJFD 97.3 and front desk receptionist at Blue Cross & Blue Shield of Rhode Island's (BCBSRI) East Providence Your Blue StoreSM, Melanie Teixeira hears those comments often. Her recognizable voice and willingness to help have made her somewhat of a celebrity in the local Portuguese community.
"One of the reasons I applied for this position at Your Blue Store is because Blue Cross was specifically seeking someone who could speak Portuguese," said Melanie. "I applied knowing that I could help a lot of Portuguese people like myself. I really believe that people feel more comfortable, and will speak more easily, when they have someone who speaks their language. It helps them feel truly understood."
With over 40% of East Providence's population identifying as Portuguese, our East Providence Your Blue Store has become a popular destination for Portuguese customers looking to address their health plan questions and needs. They know when they walk in our door—affixed with a "Bem Vindo" or "Welcome" in Portuguese—they will be met with Melanie's familiar voice.
Whether she is serving as a liaison between Portuguese visitors and the care management team, or chatting it up after their favorite fitness class, Melanie is able to explain all the benefits of the Your Blue Store locations to customers in their native language. When they come to the East Providence store to choose and purchase a health plan, get help with a current plan, pay premium bills or even participate in a care coordination program with nurses or nutritionists, Melanie is their welcoming presence.
"Being on the radio means the public only hears my voice," Melanie explained. "It's a nice change to be in the store as I'm able to interact with people face-to-face and make in-person connections with everyone."
In fact, fellow East Providence Your Blue Store bilingual agent Michael Fernandes recently teamed up with Ingrid Borgas from BCBSRI's Consumer Engagement team to host the first-ever in-store Portuguese member meet-up. Alongside Maria Andrade from the Medicare Concierge team, Melanie, Michael and Ingrid assisted and provided face-to-face bilingual service in the effort to create long-term connections with Portuguese members.
For more information about BCBSRI retail locations, including extended hours during the Medicare AEP and open enrollment, please visit www.bcbsri.com/yourbluestore. Customers can also call (401) 277-2958 or 1-800-267-0439 (TTY: 711.) or stop by a Your Blue Store location:
Highland Commons, 71 Highland Avenue, East Providence

Cowesett Corners, 300 Quaker Lane, Warwick

Lincoln Mall, 622 George Washington Highway, Lincoln

*NEW* Marshalls Plaza, 1400 Oaklawn Avenue, Cranston