LGBTQ Safe Zone Certification Program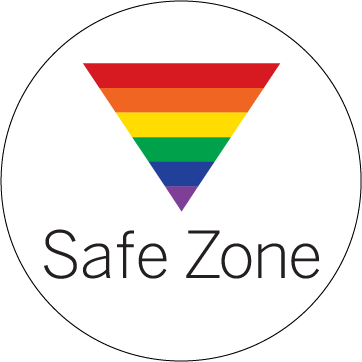 At Blue Cross & Blue Shield of Rhode Island (BCBSRI), our mission is to improve members' health and peace of mind by facilitating their access to affordable, high-quality healthcare. As part of our commitment, we aim to increase availability of care to the LGBTQ community, which remains an underserved population with specific healthcare needs. Through the LGBTQ Safe Zone Program, we help members find safe and inclusive places to receive care.
The LGBTQ Safe Zone Program certifies providers and community-based organizations identifying themselves as supporters of the LGBTQ community. Certification requirements reflect policies, procedures, and physical space related to equity and inclusion for LGBTQ patients. By expanding the LGBTQ Safe Zone certification, we hope to:
Help direct members of the community toward welcoming spaces committed to inclusive treatment
Identify safe healthcare spaces with protections against discrimination and differential treatment
Increase visibility for providers committed to equity and inclusion for LGBTQ patients
Advance health equity in our provider network and Rhode Island
Fill out your LGBTQ Safe Zone application
Program Requirements
Patient identity
Allow for patients' legal and preferred name
Allow patients to list gender pronouns
Allow patients to select their proper gender identity, including a fill-in-the-blank option
Trainings
As part of the certification requirement, all staff members are required to take cultural competence training for LGBTQ care. Offices are encouraged to establish unique cultural competency training that works best for their staff members. Below are training options that BCBSRI has found helpful. Participants will want to keep a record of their participation.
Online
Conferences
RI Trans* Health Conference
Physical space
Practices will make at least one gender-neutral bathroom available for visitor and staff use.
Practices will clearly post their patient non-discrimination policy.
Procedures
Patients are called from the waiting room in a gender-nonspecific way.
Staff members follow procedures for using the patient's preferred name and pronouns that may be different from legal name and sex.
Staff follows procedures for handling a patient's sexual orientation or gender, when referring the patient to another provider, as appropriate.
Clinical practices are reviewed annually to ensure providers are not assuming a patient's gender, marital/partnered status, and/or sexual activity.
Certification process
1. Fill out the application
The application assesses the requirements mentioned above. You will be able to certify as many unique locations as you would like.
Application deadlines are on February 15 and August 15 each year unless these dates fall on a weekend or holiday. Applications will then be due on the following business day.
We encourage you to submit applications at least a few weeks in advance of the deadline if possible. This allows BCBSRI to review your and make recommendations prior to the application deadline, if your application is need of updating to achieve certification.
Our team is available to walk you through the application process and answer any questions you have about the certification. Please email bcbsrisafezone@bcbsri.org if you'd like assistance with your application.
2. Verify your application responses
Before we review your application, we ask that you verify each response on the application by using the file upload feature in the application. This checklist suggests which materials you may want to prepare to verify your application responses.
Please refer to the checklist for details.
3. Achieve LGBTQ Safe Zone Certification
After the materials to verify each response have been submitted, we will review your application. To achieve Safe Zone certification, each answer must affirm the best practices in working with LGBTQ people. Our grading criteria ensures that members consistently experience the same high standards of care at each Safe Zone location.
4. Mark your office a certified LGBTQ Safe Zone
We will send window clings and a customized plaque to mark your office a certified Safe Zone. We will post your practice on our member Safe Zone page so those seeking care may easily contact you. You may also share your new credential within your own website or other publications.
Resources
We encourage you to stay updated on best practices for LGBTQ care and offer appropriate resources to those you serve.
Contact
BCBSRI welcomes any questions, thoughts, or concerns regarding the LGTBQ Safe Zone Program. Email bcbsrisafezone@bcbsri.org.