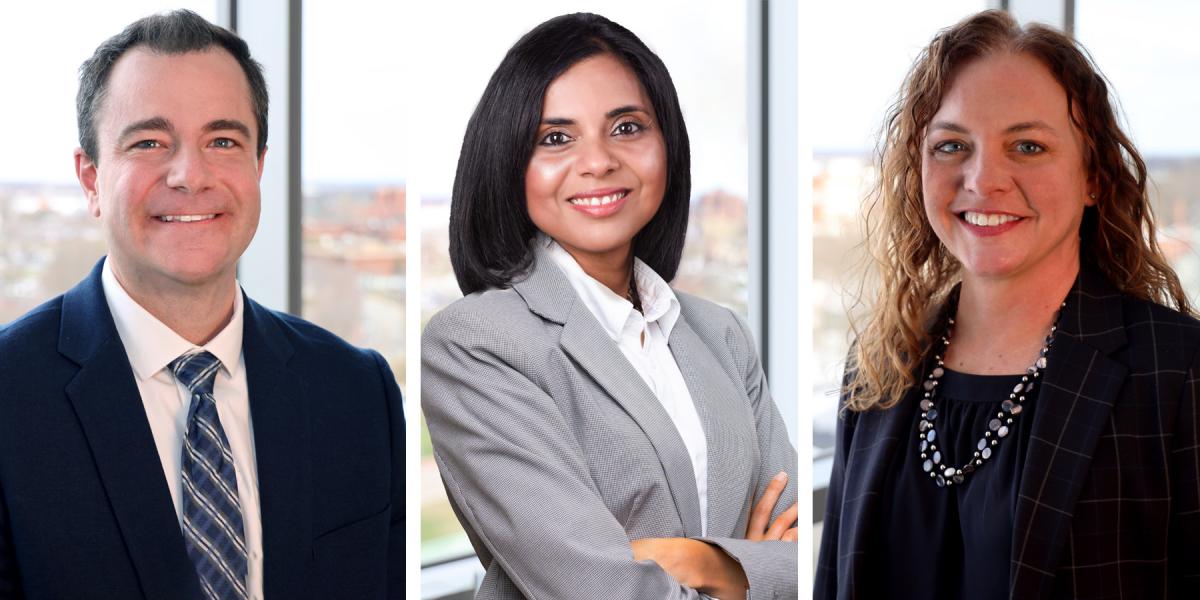 Apr 29, 2022
Blue Cross & Blue Shield of Rhode Island Announces Key Leadership Promotions
Speck, Menard, McLean bring experience, vision, and expertise
PROVIDENCE, R.I. (April 29, 2022) — Blue Cross & Blue Shield of Rhode Island (BCBSRI) is expanding its leadership team through three recent promotions. The company has named Christina Speck vice president, corporate strategy and commercial product management; Michael Menard vice president of Medicare; and Kristen Shea McLean vice president and general counsel. Speck and Menard bring comprehensive industry experience and vision to their new roles, allowing BCBSRI to continue implementing innovative strategies and programs that deliver world-class healthcare solutions to the Rhode Island community, while McLean brings extensive legal and regulatory expertise.
Speck joined BCBSRI as managing director of employer strategy and product in August 2021. As vice president of corporate strategy and commercial product management, she will be responsible for working with partners throughout the company to develop its next long-term strategic plan and implement key strategic priorities. Speck will also spearhead BCBSRI's efforts to further enhance employer analytics and reporting and develop innovative care navigation with solutions that are easy for members to use.
Speck is a seasoned health insurance professional with more than 20 years' experience leading business and product development for Fortune 500 companies. She earned her MBA in marketing from the University of Texas McCombs School of Business. Since 2019, Speck has served on the advisory board for TMRE, a global market research networking group focused on advancing business value through the insights of consumer research.
Menard, of Barrington, R.I., has spent more than half his career at BCBSRI in Medicare. He joined BCBSRI as a health care policy analyst in 2010 after completing his master's degree in business administration at Bryant University. In his 12 years at the company, Menard has earned several promotions in recognition of his contributions, his work ethic and his leadership skills. He moved into the Medicare leadership space in 2018 and most recently acted as managing director of Medicare products, Stars, quality and quality analytics. Menard was one of the leaders of the team that earned BCBSRI its first-ever 5-Star rating from the Centers for Medicare and Medicaid Services.
In his new role, Menard will oversee all of Medicare operations strategy and performance to provide superior experience and retention for members. He will also provide leadership for product portfolio, sales and distribution efforts for inside and outside representatives and broker channels and will be responsible for quality and quality analytics for both the Medicare and commercial markets.
McLean has been at BCBSRI since 2014, when she joined as assistant general counsel. She was promoted to associate general counsel in 2016 and deputy general counsel in 2019. Among her many notable contributions, McLean has overseen the company's privacy program, including compliance with HIPAA and other privacy laws and regulations; grown the company's Legal Department; and spearheaded all litigation involving the company, including antitrust, contract and employment disputes.
Mclean also acted as lead counsel for BCBSRI in administrative hearings to set premium rates. Prior to BCBSRI, McLean was in-house counsel at Combined Properties, Inc. in Malden, MA, and a litigator at Ropes & Gray LLP in Boston. She is a graduate of Harvard College and Boston College Law School.
As vice president and general counsel, McLean will provide key strategic direction to the Legal Department, advise executive leadership and the board of directors on managing risk, ensure the company complies with applicable federal and state laws and regulations and continue to oversee complex and diverse legal and regulatory matters.