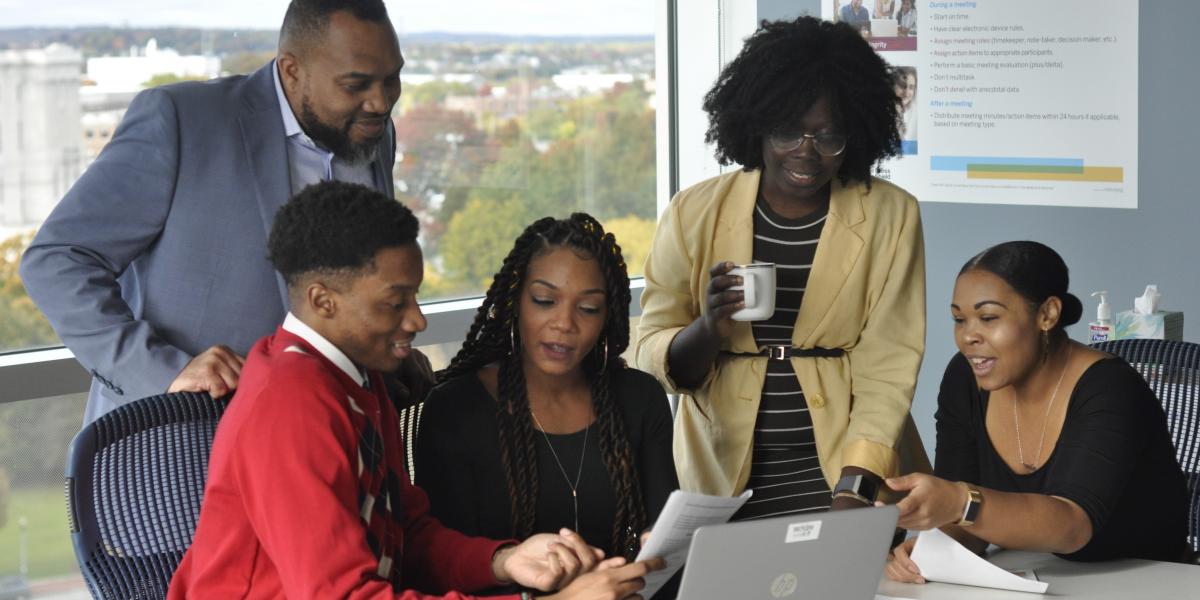 Feb 14, 2019
Employee Business Resource Group Spotlight: Black Council @ Blue
This blog post is the first in a series highlighting BCBSRI's employee business resource groups, also known as "EBRGs," which are employee networks structured around non-majority dimensions of diversity. Dimensions of diversity are traits that impact a person at home, work and in society. Examples include gender, race and ethnicity, sexual orientation, age or physical ability. While EBRGs are usually composed of employees with a shared dimension of diversity, all interested employees are welcome to participate. BCBSRI recognizes the importance of EBRGs and their place within the organization. We currently have six active EBRGs: Emerging Blue Talent, Latin@Link, Blue pRIde, Military Services ERG, Parents@Work, and Black Council @ Blue.
Blue Cross & Blue Shield of Rhode Island (BCBSRI) is committed to a diverse and inclusive workplace that is representative of the Rhode Island community around us. As we celebrate Black History Month we are proud to launch a new EBRG, Black Council @ Blue. The council hopes to play an important role in promoting mutual respect and understanding between BCBSRI and individuals of African descent as it cultivates an inclusive network of supportive professionals.
As with BCBSRI's other EBRGs, the Black Council @ Blue encourages individuals from diverse backgrounds to come together and share innovative ideas and provide opportunities to accomplish common business and personal goals. The council upholds each of BCBSRI's core values of collaboration, accountability, respect and integrity by providing an open environment. It also strives to increase cultural awareness by serving as the primary liaison between BCBSRI and the black community across Rhode Island.
One of the council's first actions has been to join the planning committee for the 14th Annual African Health Summit, hosted by the African Alliance of Rhode Island under the leadership of Julius Kolawole. The council has also identified and prioritized action in areas that disproportionately affect the black community. According to the American Heart Association, the average lifespan of African Americans is significantly shorter than white Americans, mostly because of heart disease and stroke. Additionally, black women are three to four times as likely to die from pregnancy-related causes as their white counterparts, according to the CDC - a rate that is higher than that of Mexico, where nearly half the population lives in poverty.
By cultivating strong relationships and identifying the potential for collaboration, the Black Council @ Blue strives to create a diverse and inclusive environment that inspires individuals to make others feel valued, heard and included. These efforts include:
Increasing mutual respect and understanding between BCBSRI and individuals of African descent
Promoting awareness and involvement of all associates in health-related issues that disproportionately impact racial and ethnic minority communities
Identifying health access barriers and opportunities that are unique to Rhode Islanders of African descent and using those to inform BCBSRI community outreach efforts
While the Black Council @ Blue has a focal point on the black community, any individual, regardless of how they identify themselves, should feel welcomed and supported to participate. This EBRG represents a wide range of employees across business, social, and cultural spectrums. It empowers employees to celebrate their diverse qualities while coming together as one for a common purpose.
During the month of February, we reflect, rejoice, celebrate and thank the African Americans that paved the way before us. And throughout the whole year we continue to support and celebrate diversity at BCBSRI, especially through our EBRGs. We look forward to setting new goals and seeing what the Black Council @ Blue can achieve together.
Guillaume Bagal is the lead diversity & inclusion consultant at Blue Cross & Blue Shield Rhode Island.