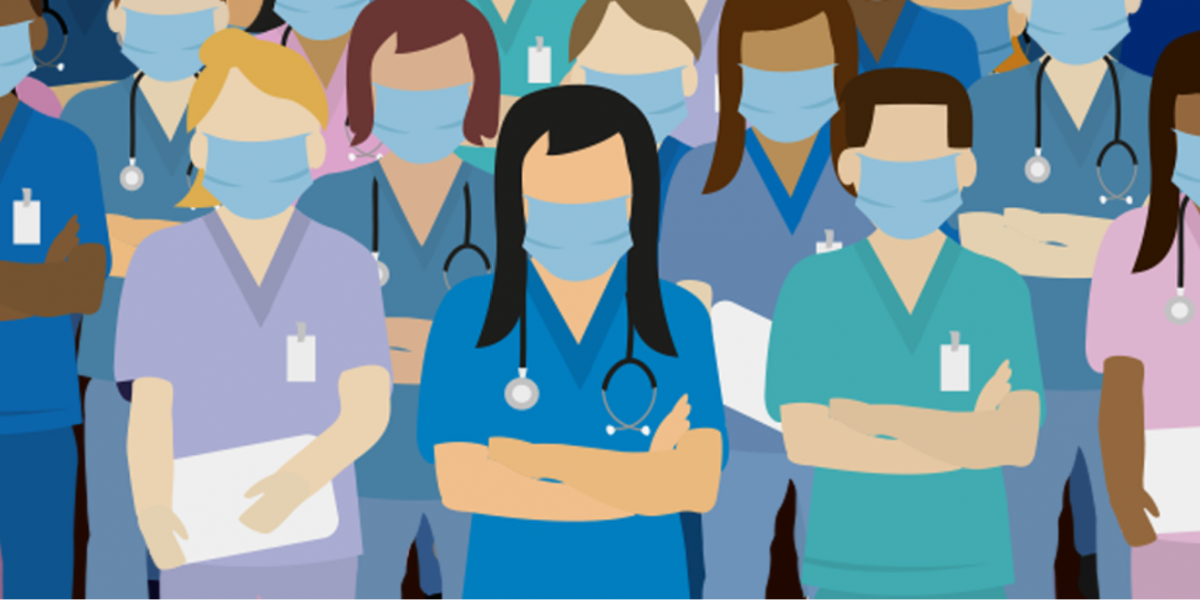 May 10, 2021
A look inside nursing at a health insurer
Hillary McCurley, chief human resources officer, Blue Cross & Blue Shield of Rhode Island
One year ago, we were still at the beginning of the COVID-19 pandemic, not knowing what was ahead or how long it might last. Fast forward to today, and things have improved considerably thanks to the availability of the vaccine – but of course we're not out of the woods by any means. Throughout this entire pandemic, nurses have continued to willingly put themselves in harm's way and do extraordinary, brave, and tireless work to care for those who are sick.
And this year, during National Nurses Week, May 6-12, we have a chance to again honor all our nurses here at BCBSRI, who go above and beyond every day to help keep our members healthy and safe. We're not often the first company people think of when discussing the nursing profession, so I'd like to share some of the areas our nurses work in.
Care management
Our care management nurses work to advocate for our members and their health, helping them be as healthy as possible by coordinating services specific to their needs, even helping to meet their basic needs such as shelter and food, if necessary. They do this through ongoing communication and education with members, sharing resources to improve their health and stay well, and collaborating with their doctors to assist with overall health and coordinate needed care referrals.
Our team of care management nurses aren't alone in this amazing work. They are supported by a team of health advocates, dietitians and support specialists who collaborate with them to locate and coordinate resources across Rhode Island (or outside Rhode Island if need be), support members' dietary needs, and provide support for benefits research, member communication, and other daily tasks.
Grievance and appeals unit (GAU)
Our GAU nurses manage clinical appeal requests submitted by providers (and sometimes members). Often, this involves advocating for members behind the scenes, ensuring their medical concerns are voiced by presenting a solid case for review of necessary medical services. Quality of care concerns are always at the forefront of their work.
Our GAU nursing team often delivers final case determinations, connecting with members and their stories in unique ways that only they can. They work to provide comfort to every member and each unique situation, even if it's just by phone.
Medical policy
Our medical policy nurses play a vital role assisting non-clinical team members, as well as other associates across the company, to understand and apply medical procedures and therapies. They bring clinical knowledge to the table that is often fundamental to the creation of policies and policy updates. And thanks to their experience working directly with physicians and other providers, they also offer a valuable perspective for drafting policy language that will be meaningful to providers.
Quality of care
This team responds and investigates when there's a concern about the quality of care that the member received. They work with several departments across the company, including customer service, care management, behavioral health and pharmacy, to ensure a resolution.
Quality team
Our quality nurses are a valuable resource to help our providers navigate all things quality. The direct contact and the strong relationships they have with our primary care provider network have a direct influence on our HEDIS® and quality scores, both critical measures to our business.
One example of those strong relationships is a quality nurse who worked around the clock with a provider practice to improve their quality. She met with them regularly to create workflows to close quality gaps and to ensure they were coding properly, and she guided them to make needed improvements. Her work and dedication to the practice was reflected in the dramatic increases they saw in their 2019 PCP Quality Incentive Program scores.
Utilization management (UM)
Our UM nurses - teams of on-site/in-house nurses as well as skilled nursing facility (SNF) nurses - perform the incredibly important role of ensuring that our members receive the right care, in the right place, at the right time.
As experts in areas such as clinical criteria, standards of care, and compliance regulations, UM nurses work closely with members and providers to help guide them through the prior authorization, denial and appeal processes. They use their experience to advocate for members, helping protect them from unsafe, ineffective or unnecessary care. They find unique solutions to complex clinical scenarios, but at the same time help coordinate member care and treatment, with an eye toward healthcare cost, efficiency and quality.
Work-related injury (WRI)
These nurses are part of a larger team that assists in the administration of work-related injury (WRI) coverage for our municipal group members. This group's mission is to ensure that municipal employees are able to return to work in a safe and timely manner, as well as to assist with claims processing.
WRI nurses use their clinical expertise to work with all parties involved - the employee, their employer and their provider - to evaluate a member's suggested treatment as it relates to their WRI. This involves reviewing medical records, approving necessary therapies and services, and communicating with the member's employer about their progress.
Going above and beyond during COVID
Since the start of the pandemic, our nurses have also played a critical role in helping our community and our state response in keeping residents safe, in addition to their day-to-day responsibilities. We wanted to share some of this extraordinary work with you:
During the initial COVID-19 outbreak last year, BCBSRI nurses assisted the Rhode Island Department of Health's Epidemiology Department with taking calls, contract tracing, and identifying patients for testing, at a time when testing resources were scarce. 

A nurse on our CM team helped to identify community resources, up-to-date quarantining guidance, and local testing sites and, more recently, she volunteered 40 hours of her time vaccinating the community at an EMA-run clinic in the northern part of the state.

Our COVID vaccine group of nurses assisted the CM team with providing up-to-date vaccine information, including ways to address members' vaccine hesitancy. This group also coordinated with our retail team and Lifespan to host vaccine clinics at our Cranston and East Providence retail stores, and were able to schedule appointments by reaching out to some of our high-risk members.
We offer our sincerest thanks and gratitude to all of our nurses - and all nurses everywhere! We salute you this week (and every week) for everything you do. If you'd like to learn more about nursing careers at BCBSRI, visit joinbcbsri.com.