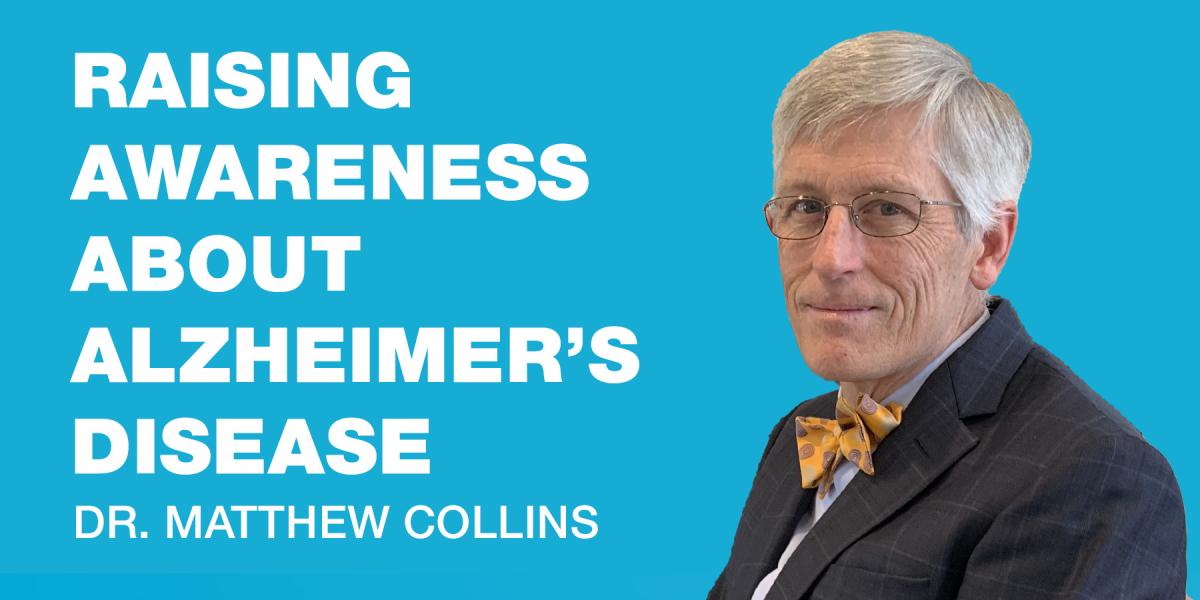 Jun 23, 2022
Raising awareness about Alzheimer's disease
Matthew J. Collins, M.D., M.B.A., BCBSRI executive vice president and chief medical officer
June is Alzheimer's and Brain Awareness Month, an important time to support those who are affected by this disease and raise awareness throughout our community. Alzheimer's disease is the most common type of brain disease or dementia, affecting memory, thinking, and behavior. It accounts for roughly 60-80 percent of dementia cases. Today, 6.5 million people are living with Alzheimer's in the U.S., but that number is expected to double to 13 million by 2050.
Alzheimer's is the only leading cause of death that cannot be prevented, cured, or even slowed. But because of its prevalence, it's incredibly important that we highlight it to spread awareness, support those who are impacted – as well as their families and caregivers – and promote brain health to reduce the risk of dementia.
Because we understand the significance of how many people – including our members – are impacted by this disease, BCBSRI last year entered into a partnership with the Alzheimer's Association Rhode Island Chapter on the Dementia Care Coordination Program. This referral-based program is designed to better address the impact of stress and isolation felt by caregivers of those living with Alzheimer's and other forms of dementia. It's based on a Veterans Administration study that showed how interventions such as this have improved outcomes and decreased utilization of healthcare services.
Bringing together healthcare providers, the BCBSRI care management and health advocate teams, and the resources of the Alzheimer's Association, it provides information, support, and resources to BCBSRI Medicare Advantage members with dementia (or a dementia-related diagnosis) and their caregivers. In Rhode Island alone there are more than 23,000 people living with dementia, and close to 53,000 caregivers providing care to a family member or friend.
The goal of the program is not only to support caregivers with education and resources but to also focus on how to address safety issues often associated with those suffering from dementia, as well as caregiver burnout, through early intervention and follow-up. The hope is to also decrease the need for ER visits through these interventions.
Lastly, I want to share just one example of why we decided to partner with the Alzheimer's Association on this important program. At a recent event, a BCBSRI employee was approached by a member who is a caregiver for someone with Alzheimer's, who tearfully expressed her immense gratitude for our health advocates. The member said the advocates are even stronger supporters than her own family has been, and that without them, she wouldn't have been able to care for her loved one.
In addition to Alzheimer's and brain awareness, this month we also recognize Men's Health Month. As always, stay safe and healthy.