Jan 1, 2023
Spine surgery codes will require authorization through eviCore starting February 1st
BCBSRI currently uses eviCore for high-end radiology and cardiology prior authorizations. Effective February 1, 2023, BCBSRI will expand eviCore's authorization management to include spine surgery. This will only apply to BCBSRI Medicare Advantage members, and BCBSRI will continue to manage all appeals. Also, authorization requests for Prospect members will continue to go through Prospect.
Based on BCBSRI data as well as other nationally available data, MSK (musculoskeletal) is a key driver of inpatient and outpatient costs and is the largest category of healthcare spending for BCBSRI members. eviCore's comprehensive evidence-based guidelines will assist us and our members in assuring that services are rendered for the right reasons and at the right time for the right patient.
All spine surgery codes that will require an authorization through eviCore effective February 1, 2023 can be found on our provider portal in our Preauthorization Quick Reference Guide. A new policy will be posted to the provider portal prior to February 1, 2023. The new policy will be added to the Medical Policy section and will be titled "2023 Prior Authorization of spine surgery effective February 1, 2023."
eviCore will hold four educational webinars in January where participants will learn how to obtain authorizations through the eviCore website and authorization timeframes: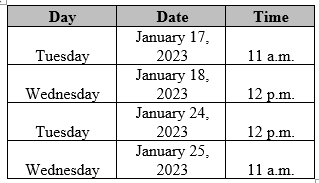 To register for one of the webinars, please follow these instructions:
1. Go to http://eviCore.webex.com/.
2. Click on the far-left corner, then choose "Webex Training."
3. Select "Live Sessions" and click the "Upcoming" tab. Choose – BCBSRI Spine Surgery Training.
4. Click "Register" next to the session you wish to attend.
5. Enter the registration information. Click the "Register" button.
If you are unable to participate in a session, you can view the provider orientation presentation on the BCBSRI resources page located on eviCore.com or at https://www.evicore.com/resources/healthplan/blue-cross-blue-shield/rhode-island.
After you have registered, you will receive an e-mail containing the toll-free phone number, meeting number, conference password, and a link to the web portion of the session. Please retain the registration e-mail so you will have the link to the web conference and the call-in number for the session you chose.
If you have any questions regarding the eviCore web portal, please contact the Web Support team at portal.support@evicore.com or 1-800-646.0418 (option 2). For any provider inquiries not associated with this training, please email ClientServices@evicore.com.
If you have any additional questions about these changes or webinar registration, please contact Provider Relations at 1-844-707-5627 or ProviderRelations@bcbsri.org.