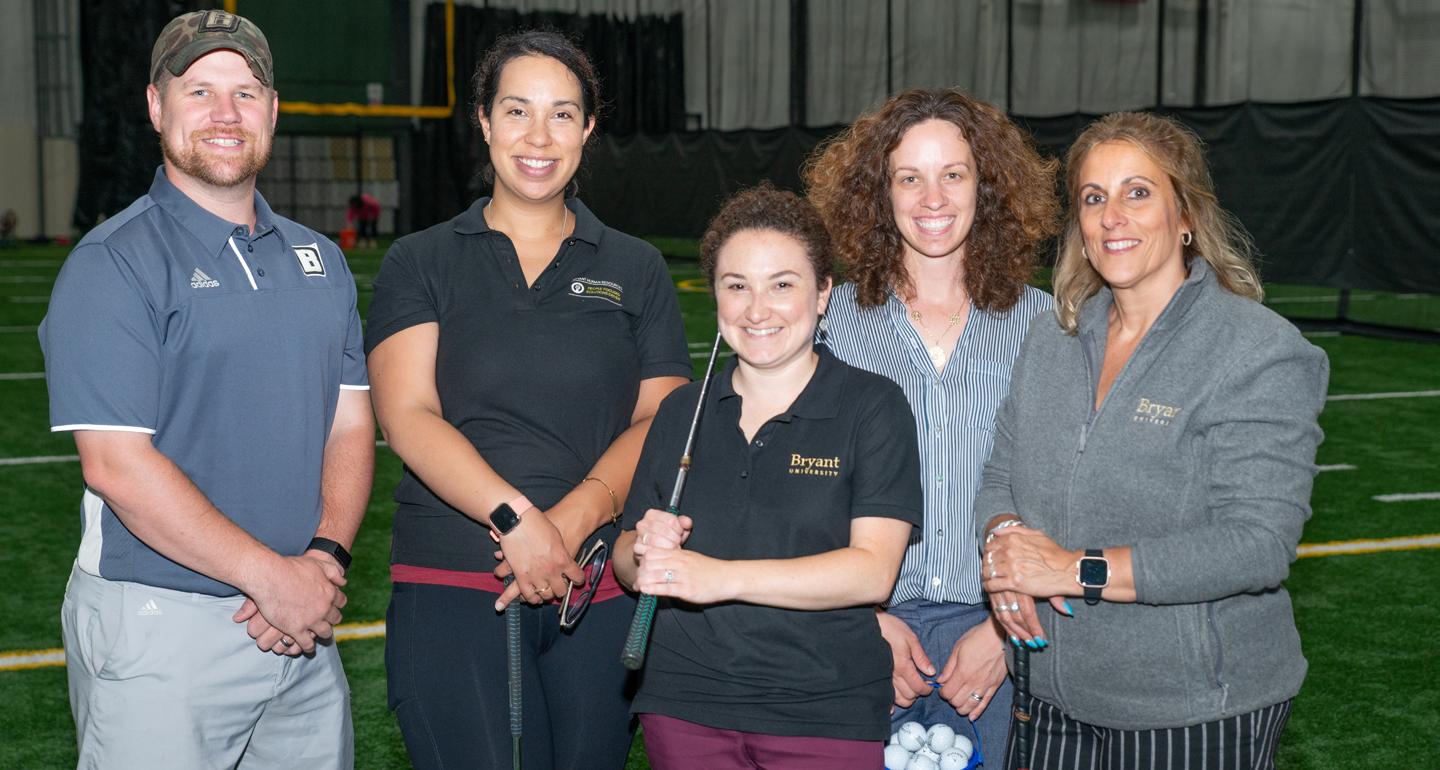 Bryant University
School of thought
Just as you would expect from a respected institution of higher learning, Bryant University takes an intelligent and thoughtful approach to maintaining a successful wellness program for its employees. That includes looking around the spacious Bryant campus and using it as an inspiration—and a resource—to offer fun programs. It means considering the well-being of the whole person, from physical to emotional to social. And it means providing employees with ongoing guidance and support.
Thinking outside
Last year, the university took its wellness program out to one of its sports fields and offered a 10-week Golf 101 program taught by one of its athletic directors. In the past, it has offered tennis lessons. Yoga on the lawn is another activity that makes good use of Bryant's outdoor spaces.
"By offering so many different programs on campus, it gets more people active and involved, and it's a way to get employees out and socializing on a fun level," says Liz Canesi, the Human Resources office manager. She runs the wellness program with Payroll Analyst Shahara Proulx-Tracy.
"People are thinking in the back of their mind, 'Oh, I'd love to learn how to play tennis, but I don't have the time and I don't have the money,'" Liza adds, "but with this they can just invest some time during their lunch break. It's those kinds of programs that have been greatly received by a lot of employees."
Getting social
The social aspect of these activities also fits with Bryant's recent push to raise awareness among employees about the importance of social wellness and establishing healthy relationships with those around them.
"I don't know if people always think about social wellness or understand what it means, but it is really a big part of well-being," Liz says.
Bryant used one of its own relationships to give social wellness a boost at the campus last year. They partnered with United Way to hold an "A Million Thanks" event the week of Veterans Day. During the event, employees wrote letters of thanks and encouragement to our troops.
"This program was so well received," Liz says. "People just loved it. It was one of those feel good kind of events."
Making a connection
Liz and Shahara incorporated A Million Thanks into one of their monthly Wellness Wednesdays, which are a staple of the university's program. These interactive, educational events are dedicated to topics like employee health, nutrition, and exercise. During Wellness Wednesdays, employees can drop by to visit with a guest vendor, as well as staff members from Health Services and Human Resources. They can enjoy healthy snacks, giveaways, and a raffle. Some recent themes included "New Year, New You Fitness," "Work/Life Balance," and "High Blood Pressure Awareness." Not only do these events give employees a wealth of information, they also open the door to communication.
Liz says that providing a venue for employees to reach out about what's on their minds is a key to making the wellness program work.
"Our Wellness Wednesdays have been so productive and so successful over the years because we are always available at them," Liz explains. "They give employees an opportunity to come by and ask questions about any health issues or the wellness program. Our employees really look forward to taking part in them each month."
Like we said, very smart and thoughtful.