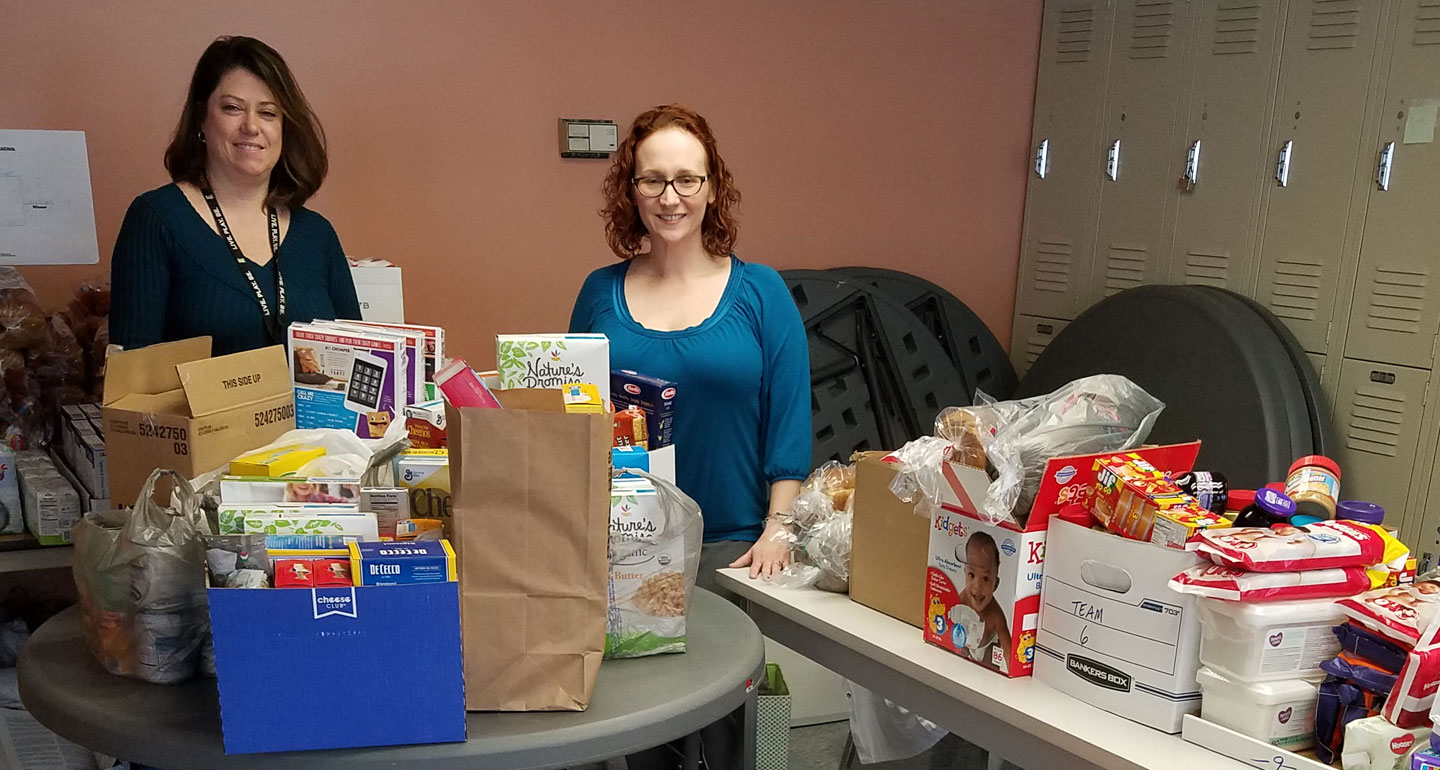 Wood River Health Services
A winning approach to wellness
To many sports fans, March means one thing—the thrilling NCAA Division I Men's Basketball Tournament. But for the staff at Wood River Health Services in Hope Valley, it was much more meaningful in 2018 thanks to the community health center's wellness committee. 
Putting it all together
The committee knew two things: they wanted to promote the health and wellness benefits of volunteering and community service, and they liked sports. So they created a competition modeled on the NCAA's March Madness. Randomly chosen teams of employees competed to collect goods for local organizations. Since March is National Nutrition Month, many of the items were food related. 
Wood River Dental Director, and wellness committee co-chair, Dr. Tiffanie Waldeck explains that the event highlighted how emotional health can be greatly improved through community connection and compassionate service to others. Tiffanie co-chairs Wood River's wellness committee with Tracy Pion, the organization's billing manager. 
"We were amazed by how many people were bringing in items on a regular basis," Tracy says. "They were running out to the store to beat the other team. The competition was very, very stiff, and it created a lot of excitement."
After three spirited rounds of competition, the winning team was treated to a catered lunch—and the Jonnycake Center of Westerly and RICan (Rhode Island Center Assisting those in Need) received much-need food and baby care items.
"Our staff collected a total of 1,614 items during the event," Tiffanie says. "We donated over two tons of food."
Having a field day
Apparently, if you want to keep the staff at Wood River happy, it's a good idea to provide them with regular opportunities to engage in healthy competition. In addition to the donation tournament, Wood River's first annual Field Day last year was a big hit. 
"That event was very well received by the staff," Tracy says. "We used a mixture of physical games and mental games so there was something for everyone. And we are competitive, so that helps."
Body and mind
Focusing on many aspects of wellness with a wide range of events is in keeping with Wood River's holistic approach to promoting good employee health. 
"We like to look at wellness very broadly, not just physical wellness, but emotional wellness and spiritual as well," says Wood River President and CEO Alison Croke. 
Alison points out how important it is to pay attention to employee satisfaction much in the same way you do customer satisfaction.
"We often spend a lot of time making sure our patients are satisfied and are getting good customer service. But customer service isn't just for your external customers," Alison says. "We have internal customers too, which are each other."
Giving back by giving time
Volunteerism is an important theme  at Wood River. It certainly made a difference to the Jonnycake Center of Westerly and RICan. Alison feels it has also made a big difference to Wood River's wellness program. 
"Our wellness committee is a volunteer-appointed committee in which people step forward and say, 'I want to be part of this committee, and I want to put the time in and organize these efforts for the staff,'" Alison says. "And I think that helps to make it that much more successful."