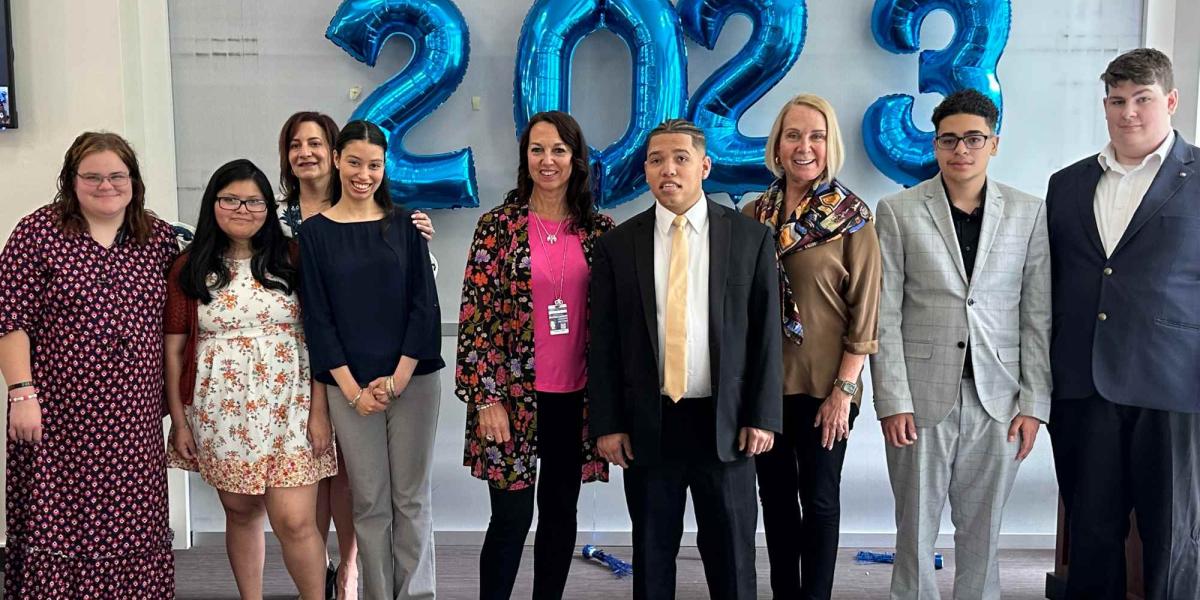 Jun 15, 2023
Blue Cross & Blue Shield of Rhode Island honors Project Search graduates
Program hosted by BCBSRI in partnership with Cranston Public Schools serves students with intellectual and developmental disabilities
PROVIDENCE, R.I. (June 14, 2023) – Blue Cross & Blue Shield of Rhode Island (BCBSRI) held a graduation ceremony Friday for its 2022-2023 class of Project SEARCH, a national program that prepares students with intellectual and developmental disabilities for competitive employment. One member of the class has already been hired for a full-time position with BCBSRI.
The June 9 ceremony for seven interns from the Cranston Public Schools recognized their successful completion of the Project SEARCH program at BCBSRI and conferred high school diplomas on the class. The event took place at BCBSRI's headquarters in Providence, with associates joining interns' families and program administrators in celebrating the students' accomplishments.
BCBSRI was the first Project SEARCH program site in the United States that was not hosted within a hospital or a hotel. Since its launch at BCBSRI in 2015, 45 students have graduated and more than 90% have found employment. All of last year's graduates and the current class have been offered jobs.
Project SEARCH is a unique, business-led, one-year program that takes place entirely at the workplace. Interns are taught fundamental practices and skills to be successful on the job. At BCBSRI, interns learn on-the-job skills and gain real-life work experience during their rotations in service areas across the company.
The following are this year's graduates:
Jennifer Bolivar

Hilary Canelo-Matias

Jake Hunt

Nancy (Riley) Houde

Ethan Jones

Jayson Martinez

Angel Mendez
Angel Mendez has been hired at BCBSRI as an associate support specialist on the Utilization Management team.
Graduates addressed their classmates and the audience. Here is what some of them said:
I have changed a lot since I started this program and I think my fellow interns have changed as well….In order to succeed and get a job, we had to change things about ourselves such as grooming ourselves better so that we can look suitable and professional for work, showing up on time or being a little bit early…and becoming more mature & responsible. — Angel Mendez
"During this year I have changed. I am not as shy. I advocate for myself. I feel more confident because I have a support team behind me. I love talking about being employed and being successful!" — Nancy (Riley) Houde
"I have changed since I started this program. I used to be so shy and now I am more confident to talk to people. I see how my fellow interns have changed too. They have all become more independent. —Jennifer Bolivar
Other speakers included state Senator Hannah Gallo; Michael Marrone, BCBSRI vice president of finance and executive sponsor of the company's Disability Inclusion Network (an employee business resource group); and Michele Simpson, executive director of pupil personnel services for the Cranston Public Schools.
"We're extremely proud of all that our Project SEARCH interns have accomplished this year and are excited to share that all seven interns have found employment," said Scott Gowrie, program lead for Project SEARCH at BCBSRI. "They have made outstanding contributions and supervisors often share how impactful Project SEARCH has been on their teams. Our partnership with Project SEARCH has not only benefitted the interns but has also provided an invaluable enhancement to our employee morale and culture."
"With the pandemic now behind us, Project SEARCH at BCBSRI is once again providing a comprehensive and robust workplace experience for our interns," said Kelly Starliper-Morris, Project Search instructor. "New opportunities for the interns were developed and the continuous progress they made has contributed to every one of them having a job prior to graduation. We appreciate the collaboration of all our partners and especially to BCBSRI for continuing to find creative ways for the program to evolve and to include interns in company events."
Project SEARCH is administered in collaboration with the state Office of Rehabilitation Services (ORS) and the Department of Behavioral Healthcare, Developmental Disabilities and Hospitals (BHDDH).