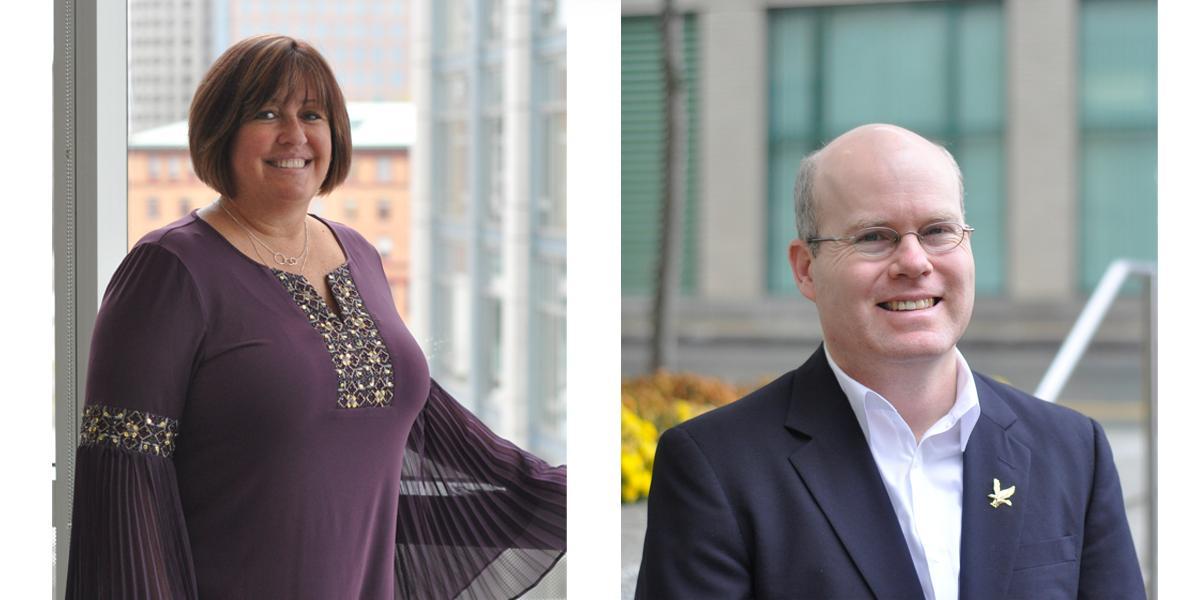 Nov 8, 2019
Employee Business Resource Group Spotlight: Military Services
Sam Burling, team lead, and Suzanne Gaddy, senior corporate board assistant, and senior executive assistant, current and former chairs, respectively, of Military Services Employee Business Resource Group, Blue Cross & Blue Shield of Rhode Island
This blog post is the last in a series highlighting BCBSRI's employee business resource groups, also known as EBRGs, which are employee networks structured around non-majority dimensions of diversity. Dimensions of diversity are traits that impact a person at home, work and in society. Examples include gender, race and ethnicity, sexual orientation, age or physical ability. While EBRGs are usually composed of employees with a shared dimension of diversity, all interested employees are welcome to participate. BCBSRI recognizes the importance of EBRGs and their place within the organization. We currently have six active EBRGs: Emerging Blue Talent, Latin@Link, Blue pRIde, Military Services EBRG, Parents@Work, and Black Council @ Blue.
After transitioning out of the military, many service members seek guidance in a variety of areas essential to a fulfilling civilian life—from housing and healthcare, to financial readiness and career planning. Blue Cross & Blue Shield of Rhode Island's (BCBSRI) Military Services Employee Business Resource Group (EBRG) recognizes the unique strengths veterans bring to the workforce, as well as the challenges associated with military life. Therefore, we are committed to providing a support system for professionals working to achieve the balance between military and civilian services.
Comprised of Active, Retired, Reserve and Separated Service members and their families, as well as supporters of military service men and women, this EBRG advocates, supports, and educates members and employees, helping them thrive as professionals while identifying (re)-employment outside or within BCBSRI. Our group members offer time, talent and resources to BCBSRI employees, especially new hires, who may face potential challenges in today's workforce.
On Veterans Day this year and every year, we underscore our mission to guide individuals and their families before, during and after deployment through the challenges associated with military life. In 2018, BCBSRI recognized Veterans Day by asking Adjutant General for the State of Rhode Island Major General Christopher P. Callahan to come to BCBSRI to talk about his role and his state duties. Callahan, who has served as adjutant general since 2015, is also commanding general of the Rhode Island National Guard and remains responsible for the mission readiness of all Rhode Island Army and Air National Guard units for both federal and state missions.
In advance of the event, the Military Service group collected donations for Dare to Dream Ranch, which was a Blue across Rhode Island volunteer site in 2017. The nonprofit organization provides equine therapy for U.S. military veterans and their families struggling with emotional challenges, such as post-traumatic stress disorder, anxiety, depression, military sexual trauma and mild traumatic brain injury.
To further extend awareness of post-traumatic physical and emotional challenges, we recently brought a performance of Resurfacing to BCBSRI. This came through a collaboration between COAAST (Creating Outreach About Addiction Support Together) and the Health Story Collaborative. The performance tells a harrowing story of a military veteran's alcohol and drug abuse triggered by multiple deployments and the path he must take to seek treatment and recovery from a disease that has ravaged the nation. Utilized to create healing and education among all associates, the event received positive feedback on its impact from both employees and veterans alike at BCBSRI.
The Military Services EBRG develops a support infrastructure and comradery between the internal and external military service advocates with bi-monthly group meetings, ongoing community events and care packages to those deployed overseas. With benefits and materials that make day-to-day work-life balance easier, our members can successfully enhance the lives of those who have served.
This month, and throughout the year, we recognize the contributions that military veterans bring to the workplace, and we respect and celebrate their choice to enter the workforce whether it be before, during or after their service.