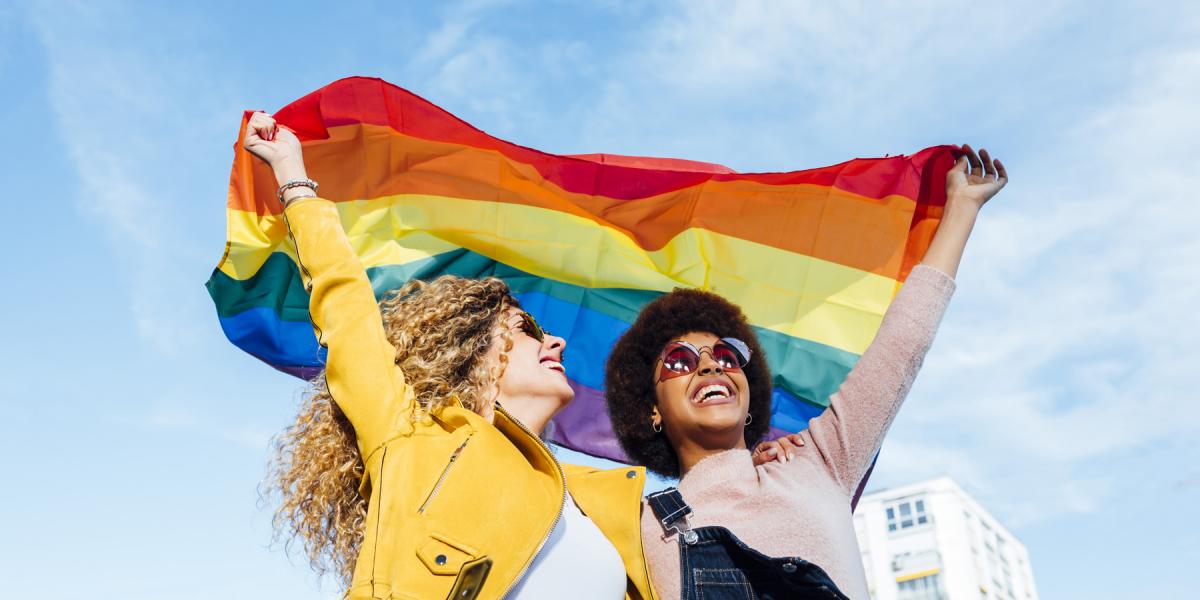 Jun 29, 2021
The power of our actions in supporting the LGBTQIA+ community
Jason Furlan, contact center oversight manager, and chair of Blue pRIde Employee Business Resource Group, Blue Cross & Blue Shield of Rhode Island
As both a local employer and a healthcare company, we recognize that our actions and words have a profound impact on the Rhode Island community through the countless people we interact with each day. Our employees, customers, providers and community partners are all part of our daily ecosystem—and in a small state like Rhode Island, we know how interconnected that ecosystem is. When it comes to how we facilitate access to care, how we design health benefits, and even how we communicate with one another, we are acutely aware of this ripple effect.
Throughout the year, but especially during PRIDE month, we recognize our responsibility in cultivating an inclusive and safe environment and how our actions — both big and small — can impact Rhode Islanders who have historically struggled in healthcare interactions.
Healthcare is stressful and confusing for many people. And, if you are feeling alienated or misunderstood as a member of the LGBTQIA+ community, it can add even more frustration and even fear. In an effort to help, we developed the BCBSRI LGBTQ Safe Zone program where providers who meet certain requirements receive this designation, meaning that their practice provides safe, affirming and inclusive care to the LGBTQIA+ community. Over the years, this program has expanded significantly, with practices achieving LGBTQ Safe Zone status in towns and cities across the Ocean State, and across various specialties. The list now includes dental and mental health practices, substance abuse and sexual trauma centers, and assisted living facilities for older adults.
Adding gender-affirming care and coverage to our policies for those transitioning is another priority for our organization. In 2019 we took the important step of including a non-binary "X" gender marker in our membership system. While this may seem like a small and simply administrative task, it is incredibly valuable in creating an inclusive experience for all members. From a policy standpoint, we have seen tremendous progress when it comes to recognizing the difference between cosmetic and gender-affirming care, and we've updated our policies accordingly. By partnering with our provider community and following guidelines from the World Professional Association for Transgender Health, we hope to continue our progress in providing  better access to safe and affirming care for our LGBTQIA+ members.
With important initiatives like Safe Zones and medical policy changes in place, we should not overlook the importance of how we communicate with and refer to one another. To further an inclusive experience, our customer service representatives are now able to update member profiles to include gender pronouns. We have also embraced the power of pronouns internally for our employees by rolling out changes to our email signatures to include pronouns and offering trainings about why pronouns matter and the impact they have on creating an inclusive and supportive environment. We talk about this topic in a recent episode of BCBSRI's Rhode to Health podcast – The Power of Pronouns – led by members of our BluepRIde employee business resource group.
We recognize that our business reaches beyond employees and members – our ecosystem involves brokers, small and large businesses across the state, community partners, providers and policy leaders who hear from us daily. As one of the largest employers in Rhode Island, we hope to set an example for other companies and organizations. BCBSRI is considered a Best Place to Work for LGBTQ Equality after scoring top marks of 100 percent on the Human Rights Campaign Corporate Equality Index, a national benchmarking survey and report on corporate policies and practices related to LGBTQ workplace equality, for the past seven years consecutively. We are proud to be the only Rhode Island company to have done so. And, just this month BCBSRI became the very first Blue Plan nationally to join The Business Coalition for the Equality Act - a group of leading U.S. employers that support the Equality Act, federal legislation that would provide the same basic protections to LGBTQ people as are provided to other protected groups under federal law.
Our actions — both large and small — have the potential to further advance equality for the LGBTQIA+ population. Whether it's improving access to safe, affirming care via LGBTQ Safe Zones, instituting broad-based policy changes, or simply communicating and referring to one another in the appropriate way, all efforts are valuable and allow us to make progress that matters. To learn more about BCBSRI's efforts to advance diversity, equity and inclusion, please visit www.bcbsri.com/about/diversity. Additional resources include: PFLAG, GLAAD, Human Rights Campaign, SAGE Rhode Island and the National LGBTQIA+ Health Education Center.