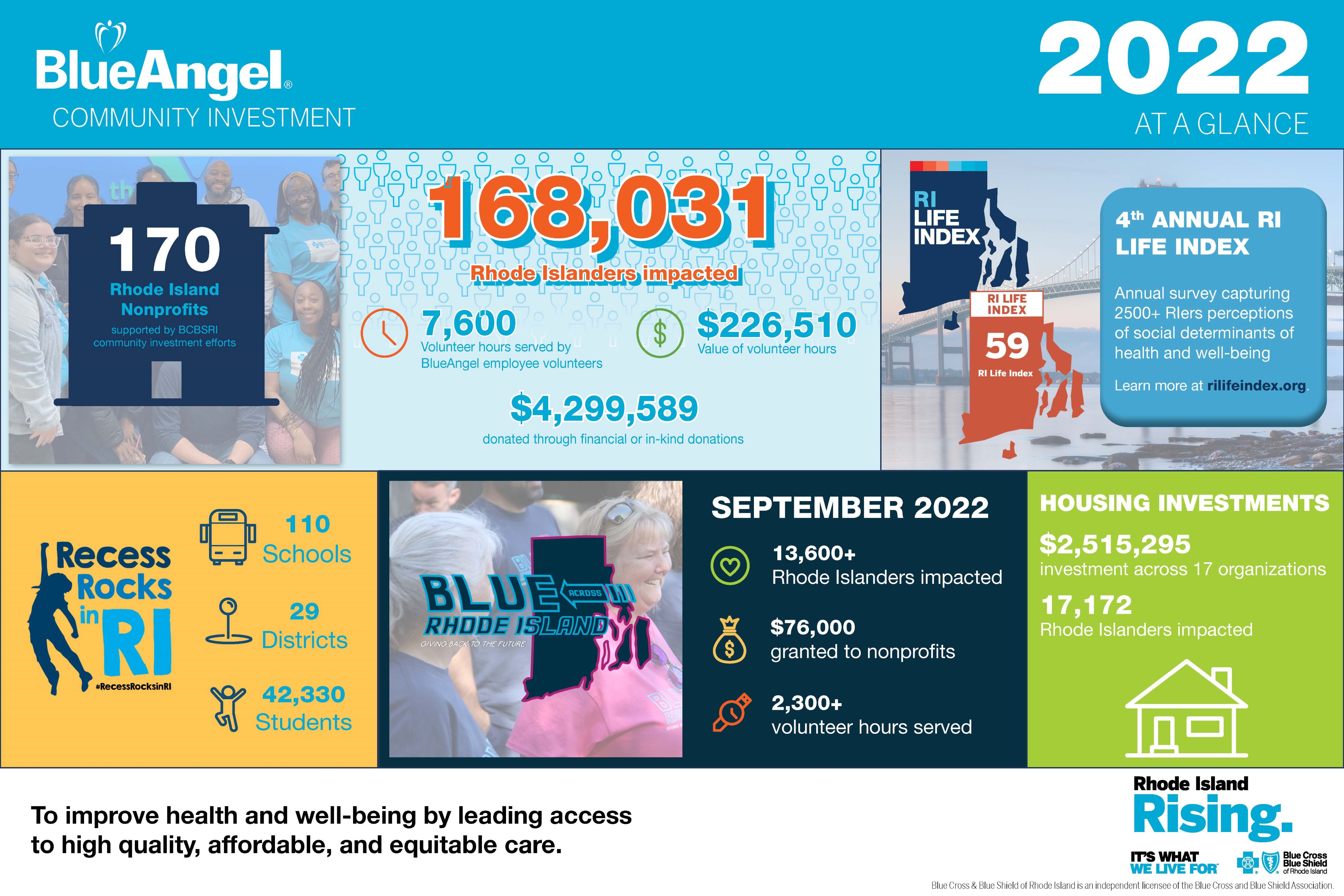 As Rhode Island's largest local health insurer, BCBSRI has always been rooted in the community. We know that Rhode Islanders' well-being is influenced by where we grow up, play, live, and work. That knowledge drives our efforts to increase health equity, continually building toward healthier and more vibrant communities for everyone.
Our vision – To improve health and well-being by leading access to high quality, affordable, and equitable care – guides us in all of our philanthropic efforts. Annually, we provide significant investments to Rhode Island nonprofit organizations that aim to improve the health of our community.

Our strategy is rooted in the premise that health is so much more than what happens within the confines of the healthcare system. We know health outcomes do not rest solely upon medical interventions, but also greatly depend on meeting basic human needs. In our efforts to deepen our understanding of Rhode Island's specific needs, we launched the RI Life Index, a data resource based on interviews with residents across the state and created in partnership with Brown University's School of Public Health. The RI Life Index is one of several instruments driving our aim of comprehensive health and well being for ALL Rhode Islanders.

Our goal in the Index is to ensure that we address the social determinant of health domains of greatest priority to Rhode Islanders, so that we can move the needle on improving quality of life for everyone in our state, regardless of where they were born or where they live. The Index will enable BCBSRI, as well as community-based organizations and others working in public health to measure progress over time. By summarizing firsthand perceptions of the residents of our state, the Index also offers qualitative data that can be paired with other resources to complete a portrait of the state's health landscape.
2019 Community Investment by the Numbers
212
Organizations supported through in-kind donations, volunteerism, or financial support
86,882
Rhode Islanders impacted through these organizations
11,159
Volunteer hours served
$275,505
Value of volunteer hours*
$159,366
Generated by employee fundraising